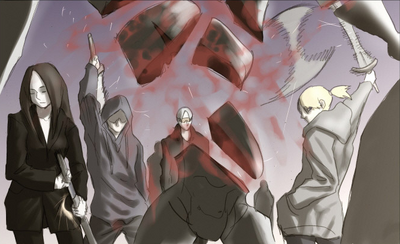 Chapter 19 in english can be found
LINE Webtoon
.
This chapter relates the Battle of Arin to the Battle of Valtia.
With the Manaan's engines destroyed, the rest of the fast assault ships unable to stand against the mobilised Planetary and AE forces and the invasion force of High Rank Beasts killed, the battle appears to be over.
There is only one last battle capable Beast in the entire force...
Chapter Links
Edit
Official translation at LINE Webtoon: http://www.webtoons.com/en/fantasy/knight-run/ep-19-pray-part-17/viewer?title_no=67&episode_no=20
Original Korean at Naver: http://comic.naver.com/webtoon/detail.nhn?titleId=64997&seq=20
Ad blocker interference detected!
Wikia is a free-to-use site that makes money from advertising. We have a modified experience for viewers using ad blockers

Wikia is not accessible if you've made further modifications. Remove the custom ad blocker rule(s) and the page will load as expected.