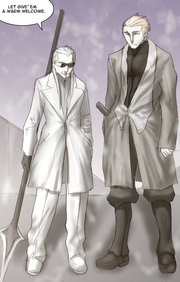 Dry readies for the round table meeting with his fellow Knights whilst also trying to prevent Anne from returning to Arin. Knowing that she would not listen to his reasons, he decides to use force and sends two Master Knights, Bernet and Dan, to intercept her.
The situation appears to be coming to a head when breaking news is delivered from the sky...
Chapter Links
Edit
Official translation at LINE Webtoon: http://www.webtoons.com/en/fantasy/knight-run/ep-16-pray-part-14/viewer?title_no=67&episode_no=17
Original Korean at Naver: http://comic.naver.com/webtoon/detail.nhn?titleId=64997&no=17
Ad blocker interference detected!
Wikia is a free-to-use site that makes money from advertising. We have a modified experience for viewers using ad blockers

Wikia is not accessible if you've made further modifications. Remove the custom ad blocker rule(s) and the page will load as expected.