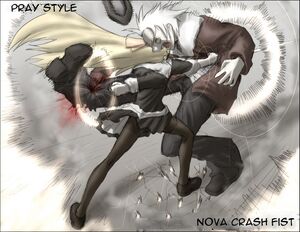 A flashback to when
Anne Meyer
and
Pray Meyer
were trainees.
Humans are always looking for more and better ways to kill Beasts, the height of Biological Engineering, known as Mosaic Babies, Dein is just the latest such project from the Paranormal Power Research Center of the North, trained to be an Elite Zero-Breaker and already more powerful than a Master Knight, with his designer Circe saying that he may be even surpass Top Sword Milo.
The North wants for an ability test for this new weapon. Central wants an opponent who can last for more than a second against Pray.
Solution Found.
Here the flashback ends, and Dry announces the formation of the new alliance.
Ad blocker interference detected!
Wikia is a free-to-use site that makes money from advertising. We have a modified experience for viewers using ad blockers

Wikia is not accessible if you've made further modifications. Remove the custom ad blocker rule(s) and the page will load as expected.