Leo



Gender

Male

First Appearance

Main Episode-0 Pray: Chapter 1

Age

20 (CC 430)

Height

??

Status

Master Knight

Sword
Leo is a Master Knight and was responsible for killing Blue Ring in the battle of Planet Void. Despite being his first encounter with a EX-Type Zero, he won and earned the title of Zero Breaker. He is recognized as a strong knight by both Jack Norton and Dry Leonhard.
When he was a boy, Anne saved him and his sister Leny in a warzone while she was still a trainee. Leo then became a knight and Anne's disciple, but this last is apparently a secret that he keeps from his sister. He holds Anne in high esteem and idolizes her as a knight, it is also shown that he has a badly disguised crush on her, but she keeps her distance and wants him only as a friend.
He has fought side-by-side with Anne in the past. In the battle of Void he lends her his AB Sword so that she could finish off the Queen, after he breaks his right arm in his battle with Blue Ring.
At Anne's retirement party he had an minor scuffle with fellow Master Knight Daniel Leonhard, but both were stopped by the Doll A-10. He reappears again during the Battle of Valtia, playing a role in the attempt to kill Fear where it was revealed that he has been appointed as Bishop of the Crossleague.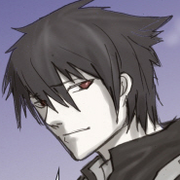 Ad blocker interference detected!
Wikia is a free-to-use site that makes money from advertising. We have a modified experience for viewers using ad blockers

Wikia is not accessible if you've made further modifications. Remove the custom ad blocker rule(s) and the page will load as expected.