Dan



Gender

Male

First Appearance

Ep0 - Ch15

Age

??

Height

Tall

Status

Knight

Sword

??
First appearance: Ep0 - Ch15.
Dan is a tall Master Knight Zero Breaker who appears to prefer using his fists when he is engaged in a serious battle. Dan tends to use swords against low rank beasts and high ranks up to Type 5, but chooses not to arm himself with AB weaponary against the S Class Type Zero Fear on Valtia.
He is curious about Anne's power, being a Knight who serves on the Absolute Defense Line and thus has never personally seen the battles of Anne and Pray on the frontier worlds.
He has a Quasi-Paranormal power, which is a arbitary definition meaning nothing much, as he can use energy generation and instant movement like a normal Paranormal Power user.
He participated in the Battle of Valtia and the Arin Recovery Campaign.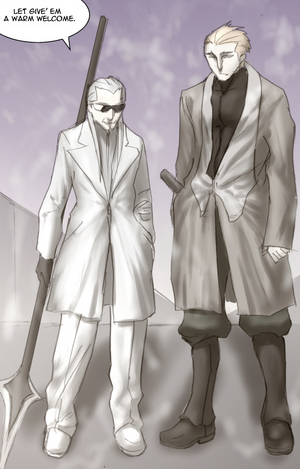 Ad blocker interference detected!
Wikia is a free-to-use site that makes money from advertising. We have a modified experience for viewers using ad blockers

Wikia is not accessible if you've made further modifications. Remove the custom ad blocker rule(s) and the page will load as expected.