Cosmic Century (CC) is the calendar system used in the Knight Run series. The shift to the usage of CC reflects humanity's ability to embark on space travels starting the "Space Age". Year 0 in this calendar is year 2249 in Anno Domini (AD) or Common Era (CE). The start of the Knight Run series begins on CC 430 (AD/CE 2679).
The standard date format of Knight Run follows | yyy.mm.dd | in short format, and | dd mmmm yyy | in long format (e.g. CC 430.01.01 and 01 January 430 CC).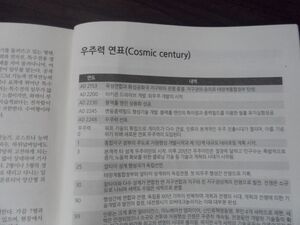 Background
Edit
Centuries from the present, humanity entered the Space Age by grasping the power to space travel through mastery of FTL travel. Humans created the Black Hole Engine and Warp Gate and subsequently began colonizing planets further beyond in distant outer space. Mass emigration from earth then occurs. Despite entering the Space Age, humans still remained divided. Differing groups had mutual disputes with each other based on status, race, wealth, or politics. This led to wars from Earth being escalated into outer space as well. Eventually a perpetual state of conflict known as the "Human Civil War" ensued. The different planetary governments and spaceborne organizations eventually allied with either one or the other forming blocs that coalesced into five main factions: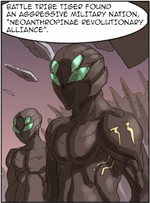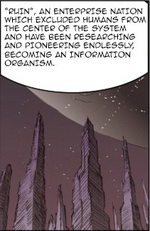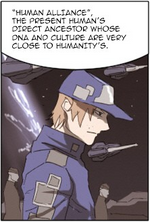 The Human Civil War between the five factions was forcibly ended when the high rank beasts started invading. The original beasts were overlooked by the human factions as too weak, bearing no distinct advantage in either numbers or quality. This allowed the beasts to steadily improve through experience in repeated battles and evolving their genetic structure with assimilated technologies and relatively superior genes. The beasts started exhibiting capacity to produce and use cores and the ability to manifest energy shields/barriers and particle beams. Their rate of reproduction exponentially increased as well. The beasts also introduced specialization for efficient role distribution (e.g. Queens and Plants), and started mimicking Human technology (e.g. Guardian and Blue Flower). Different organs meant for military use or survival were also identified (e.g. Jamil Organ and Chamild Organ). The spaceborne factions still continued their wars against each other despite the arrival of the first high rank beast, Adam. They only realized their mistake of underestimating the potential of beasts when the Innovation Empire and the NRA collapsed due to Beast invasions. The remaining factions and their remnants then realigned their war efforts to focus on Beasts. This marked the start of the Great War which ended in the destruction of all factions, except for Earth who isolated itself. The original warp gate and Black hole engine technologies were lost during the Great War which proved to be a huge setback. Human Alliance and Ruin initiated a union which would eventually evolve into the AE. Remnants of NRA and Innovation Empire soon voluntarily joined the AE or were forcibly absorbed.
References
Edit