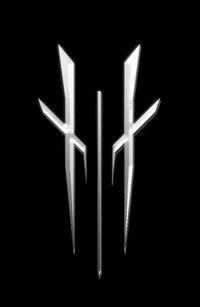 Knight Order (also known as Knightage) is a militarized and structured organization of Knights. It has two connotations depending on its usage: in a broad/general sense, it can refer to any organized group of Knights with a disciplined command system; on the other hand, Knight Order can also specifically refer to the paramilitary entity that emerged after restructuring the humanitarian aid group "PF". In any case, the modern Knight Order system that exists in the Knight Run universe was established by Mother Knight with close assistance from the Leonhard Family and the Zail Family. The current Knight Order is being consolidated by the Temporal Order under Dry Leonhard.
Knight Orders were created as a reaction to humanity's desperate situation in the wake of AE's failure in its Great War. To assist in the efforts to save humanity, an individual (later known as Mother Knight) founded "PF" as a highly disciplined humanitarian aid organization that would provide relief and succor to human worlds affected by the devastation brought by the Beasts. PF gradually delved into R&D and the recovery of lost technologies by contacting the scattered remnants of the collapsed Innovation Empire and Neoanthropinae Revolutionary Alliance. PF aimed to study their technology, specifically their bio-soldiers, as a means of deterring humanity's downfall.
The Leonhard Family, which was exiled after AE's coup d'état of Central Assembly, supported PF in its endeavors.
Expansion
Edit
After the successful slaying of E-12 and Satan, the Knight Order expanded with full support from AE to fulfill its purpose of protecting humanity and slaying Beasts. To provide further protection to all human worlds, the AE and Knight Order jointly created the Absolute Defense Line. Knight Order then established four branch orders representing the four cardinal directions of the defense line: Northern Order, Eastern Order, Western Order, and Southern Order. It also subdivided and bequethed its responsibility over those jurisdiction areas to the respective branch orders akin to the feudal system. However, overall supreme command over the established branch orders rested unto the Central Order based in Arin who also exercised regulatory and supervisory powers over all Knights irrespective of their branch of service. Collectively, all the four branch orders joined with Central were known as the Knight Order.
The four branch orders acted as marches that spearheaded countering the Beast threat from the frontiers as well as strengthening and increasing the scope covered by the inner safe zone of the Absolute Defense Line.
Reformation
Edit
Dry Leonhard created the Temporal Order to permanently replace Central Order. However the Temporal Order was under the Alternative League and no longer followed the established Knight Order structure.
Organization
Edit
List of executive positions:
List of Knight Orders
Edit
List of Associated Entities
Edit
Knight Training Organization